Christian Fuchs. 2020. Communication and Capitalism: A Critical Theory. London: University of Westminster Press. 406 pages.
ISBN (Paperback): 978-1-912656-71-4; ISBN (PDF): 978-1-912656-72-1; ISBN (EPUB): 978-1-912656-73-8; ISBN (Kindle): 978-912656-74-5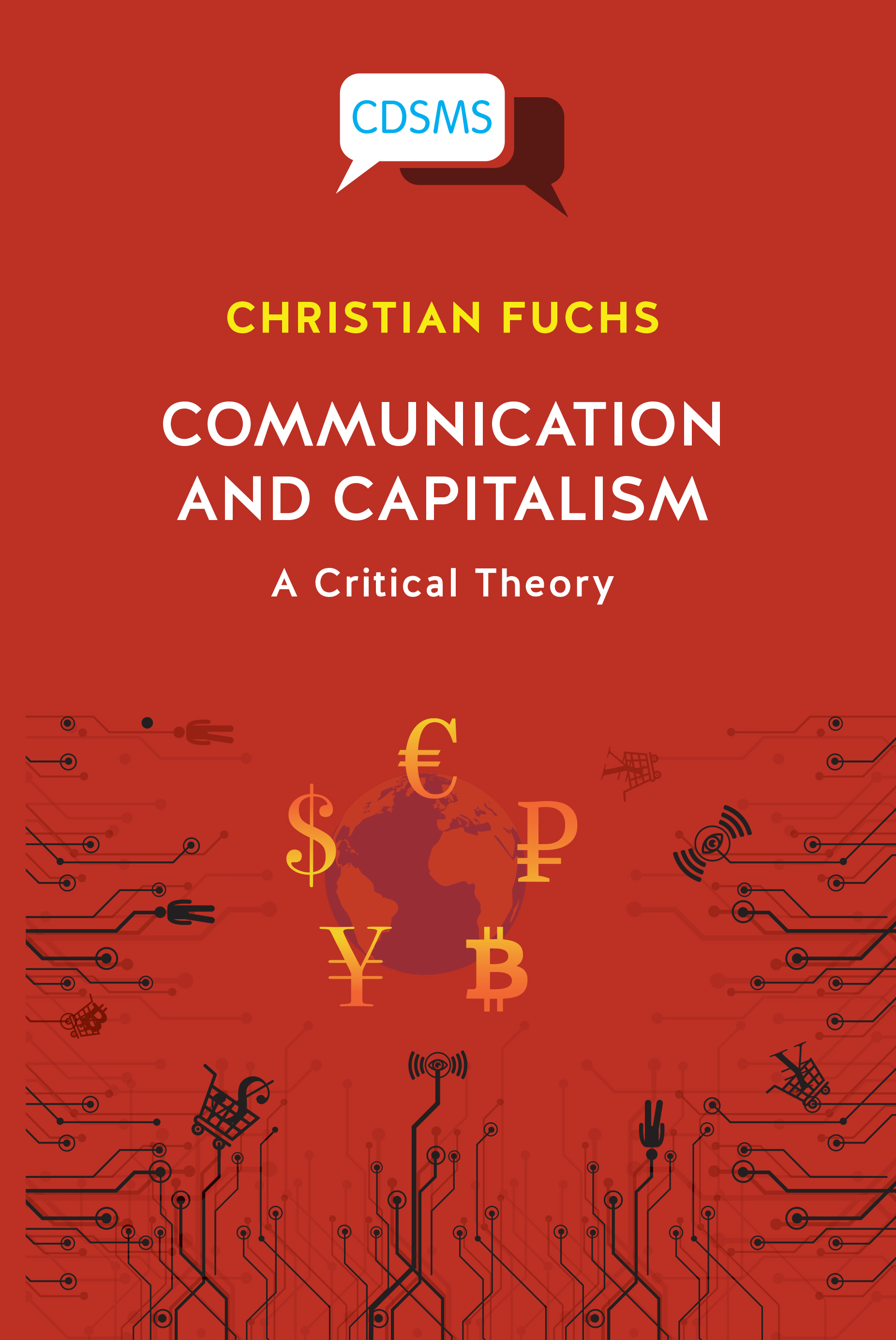 Christian Fuchs. 2020. Communication and Capitalism: A Critical Theory. London: University of Westminster Press.
ISBN (Paperback): 978-1-912656-71-4; ISBN (PDF): 978-1-912656-72-1; ISBN (EPUB): 978-1-912656-73-8; ISBN (Kindle): 978-912656-74-5
Order on IndieBound, Book Depository, Amazon UK, Amazon.com,
Open access version
There is also a German edition
Watch the launch video talk Capitalism and Communication: Critical Theory in the Age of the Internet and Communicative/Digital Capitalism that introduces the approach taken in the book
Short announcement video

Read an interview with Christian Fuchs about "Communication and Capitalism"
About the book:
Communication and Capitalism: A Critical Theory outlines foundations of a critical theory of communication. Going beyond Jürgen Habermas' theory of communicative action, Christian Fuchs outlines a communicative materialism that is a critical, dialectical, humanist approach to theorizing communication in society and in capitalism. The book renews Marxist Humanism as a critical theory perspective on communication and society.
The author theorises communication and society by engaging with dialectic, materialism, society, work, labour, technology, the means of communication as means of production, capitalism, class, the public sphere, alienation, ideology, nationalism, racism, authoritarianism, fascism, patriarchy, globalisation, the new imperialism, the commons, love, death, metaphysics, religion, critique, social and class struggles, praxis, and socialism.
Fuchs renews the engagement with the questions of what it means to be a human and a humanist today and what dangers humanity faces today.
Table of Contents
1. Introduction
Part I: Foundations of Communicative Materialism
2. Materialism
3. Materialism and Society
4. Communication and Society
Part II: Communication in Capitalist Society
5. Capitalism and Communication
6. Communication Technologies: Means of Communication as Means of Production
7. Communication Society
8. Political Communication in the Public Sphere
9. Ideology
10. Nationalism, Communication, Ideology
11. Global Communication and Imperialism
Part III: The Materialist Transcendence of Communicative Capitalism
12. Communication Society as Society of the Commons
13. Death and Love: The Metaphysics of Communication
14. Communication and Struggles for Alternatives
15. Conclusion: Advancing a Dialectical, Humanist, Critical Theory of Communication and Society
Endorsements:
"An authoritative analysis of the role of communication in contemporary capitalism and an illuminating proposition for how alternative forms of communication based on cooperation and the common could lead to a more democratic future. This is an important contribution to debates about the forms of domination and potentials for liberation in today's capitalist society – an impressive wide-ranging book".
Professor Michael Hardt, Duke University and co-author of the tetralogy Empire, Commonwealth, Multitude, and Assembly
"For well over a decade Christian Fuchs has been leading the charge to demonstrate that Marx and the Marxist tradition remain indispensable to a critical analysis of contemporary communications. This volume pulls together threads and insights from across his work to craft a comprehensive approach to understanding and transcending the deepening crisis of communicative capitalism. It is a major work of synthesis and essential reading for anyone wanting to know what critical analysis is and why we need it now more than ever".
Professor Graham Murdock, Loughborough University, co-author of Researching Communications and co-editor of The Handbook of Political Economy of Communications.