Fuchs, Christian. 2018. Digital Demagogue: Authoritarian Capitalism in the Age of Trump and Twitter. London: Pluto. 336 pages. Paperback ISBN: 9780745337968. Hardcover ISBN: 9780745337982. eBook ISBN: 9781786802828.
Order at publisher's page [Pluto]
North America: Distributed by The University of Chicago Press [Order]
Published together with the free e-book "Nationalism 2.0: The Making of Brexit on Social Media"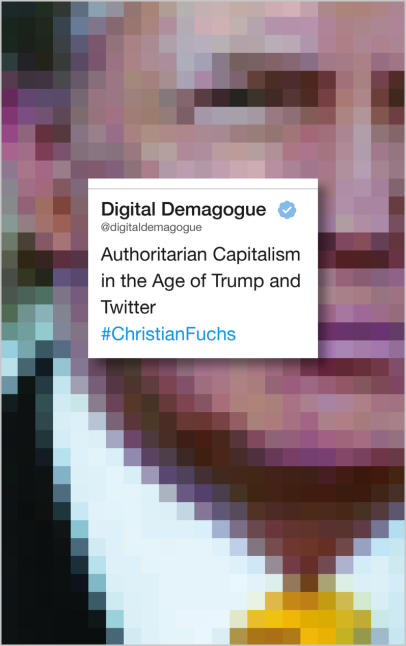 German version published by VSA: Digitale Demagogie: Autoritärer Kapitalismus in Zeiten von Trump und Twitter
From 'Covfefe' to #FraudNewsCNN and #FakeNews, Donald Trump's tweets have caused an international frenzy. He is a reality TV and Twitter-President, who uses digital and entertainment culture as an ideological weapon – as an expression of his authoritarianism.
This book delves into new political-economic structures as expressed through political communication to explain the rise of authoritarian capitalism, nationalism and right-wing ideology throughout the world. Christian Fuchs does this through updating Marxist theory and the Frankfurt School's critical theory. He re-invigorates the works on authoritarianism of Franz L. Neumann, Theodor W. Adorno, Erich Fromm, Herbert Marcuse, Max Horkheimer, Wilhelm Reich, Leo Löwenthal and Klaus Theweleit in the age of Trump and Twitter.
In the age of big data and social media, Digital Demagogue studies the expressions of ideology, nationalism and authoritarianism today and discusses prospects for overcoming capitalism and renewing the Left.
Christian Fuchs is a leading critical theorist of communication and society. He is a Professor at the University of Westminster, co-editor of the open access journal tripleC: Communication, Capitalism and Critique, and the author of Digital Demagogue (Pluto, 2018) and Social Media: A Critical Introduction (Sage, 2017) amongst other works.
Additional Material:
Radio feature and interview about Trump, Twitter, authoritarianism & Cambridge Analytica: KPFA Letters and Politics, March 27, 2018 MP3
Will the Cambridge Analytica Scandal be the "Smoking Gun" of Donald Trump's Watergate? Medium.com, March 20, 2018. Link
Why There Are Certain Parallels Between Joachim C. Fest's Hitler-Biography and Michael Wolff's Trump-Book. Academic version from tripleC 16 (1): 260-263, popular science version from Medium.com, February 14, 2018.
Authoritarian Capitalism in the Age of Social Media. Pluto Press-blog, March 13, 2018. Link
Social Media, Authoritarian Capitalism, and Donald Trump. Economic Sociology and Political Economy-blog, February 15, 2018. Link
In German: Interview about the German version of the book "Digital Demagogue: Authoritarian Capitalism in the Age of Trump and Twitter" (Digitale Demagogie: Autoritärer Kapitalismus in Zeiten von Trump und Twitter). Jungle World 6/2018. Link
Endorsements:
"This thorough, empirically-rich study is essential reading for anyone concerned with the intensification of far-right power in a digital age" – Jodi Dean, author of Crowds and Party (Verso, 2016)
"For an excellent guide to understanding Trump and the dangerous worldwide movement he leads, you need go no further than this conceptually rich and empirically detailed book" – Vincent Mosco, author of Becoming Digital: Toward a Post-Internet Society (Emerald Publishing, 2017)
Table of Contents:
1. Introduction
2. Ideology, Nationalism and Fascism
3. Right-Wing Authoritarianism and Authoritarian Capitalism
4. Trumpism: Donald Trump and Authoritarian-Capitalist Statism
5. Trumpology: Donald Trump's Ideology
6. Trump and Twitter: Authoritarian-Capitalist Ideology on Social Media
7. Conclusion: Authoritarian Communicative Capitalism and its Alternatives
Notes
Bibliography
Index
Details (Excerpt from the Introduction)

We live in times of economic crises, complex wars and heavy political conflicts. Far-right demagogues make use of these insecurities and resulting fears. They distract attention from the complex societal and political-economic causes of crises, construct scapegoats and preach nationalism and law and order politics. The proliferation of new nationalisms and authoritarian politics reminds us of past times. The danger is that history might repeat itself. While there is a danger of regression to the past, we at the same time are experiencing the emergence of new technologies such as social media, big data analytics, the Internet of things, cloud computing, smart technologies, etc. that promise a new age. The old and the new are always linked in complex ways in the present. Right-wing authoritarianism celebrates new successes and is communicated through new formats, such as social media. Donald Trump as a president who uses the two communication tools of reality TV (The Apprentice) and social media (Twitter) is prototypical for how old ideologies are communicated through new media and how these ideologies take on new forms in the age of Internet spectacles.
This book asks: What is authoritarian capitalism? How is authoritarian capitalism communicated through social media? It formulates foundations of a contemporary critical theory of right-wing authoritarianism and authoritarian capitalism. For doing so, it updates the Frankfurt School's critical theory of authoritarianism. It draws on and re-invigorates the works of the Frankfurt School thinkers Franz L. Neumann, Theodor W. Adorno, Erich Fromm, Herbert Marcuse, Max Horkheimer and Leo Löwenthal. It studies how right wing authoritarianism works and is communicated on social media platforms such as Twitter and Facebook.
Chapter II gives an introduction to the notions of ideology, nationalism an fascism from a critical theory perspective. Chapter III provides a theoretical framework for understanding right-wing authoritarianism and authoritarian capitalism.
Chapters IV and V analyse economic power, state power and ideological power in the age of Donald Trump with the help of critical theory. They apply the critical theory approaches of thinkers such as Franz L. Neumann, Theodor W. Adorno and Erich Fromm. Chapter IV focuses on aspects of political economy (Trumpism: Trump and authoritarian statism), chapter V on Trump's ideology (Trumpology).
Chapter IV analyses changes of US capitalism that have together with political anxiety and demagoguery brought about the rise of Donald Trump. The chapter draws attention to the importance of state theory for understanding Trump and the changes of politics that his rule may bring about. It is in this context important to see the complexity of the state, including the dynamic relationship between the state and the economy, the state and citizens, intra-state relations, inter-state relations, semiotic representations of and by the state, and ideology. Trumpism and its potential impacts are theorised along these dimensions.
Chapter V focuses on the ideology of Trump (Trumpology). Trumpology has played an important role not just in Donald Trump's business and brand strategies, but also in his political rise. The (pseudo-)critical mainstream media have helped making Trump and Trumpology by providing platforms for populist spectacles that sell as news and attract audiences. By Trump making news in the media, the media make Trump. An empirical analysis of Trump's rhetoric and the elimination discourses in his NBC show The Apprentice underpins the analysis of Trumpology. The combination of Trump's actual power and Trump as spectacle, showman and brand makes his government's concrete policies fairly unpredictable. An important question that arises is what social scientists' role should be in the conjuncture that the world is experiencing.
Chapter VI analyses how Donald Trump uses Twitter for communicating authoritarian ideology. It uses the critical theory of the authoritarian personality for theoretically framing right-wing authoritarianism and engages for this purpose with the works of Wilhelm Reich, Erich Fromm and Theodor W. Adorno. The chapter identifies hierarchical leadership, nationalism, the friend/enemy-scheme, and militaristic patriarchy as four key elements of right wing authoritarianism. Using this theory framework, it presents a critical discourse analysis of 1,815 tweets posted by Donald Trump between July 2016 and January 2017. The chapter gives insights into how right wing authoritarianism works on social media platforms such as Twitter.
This book contributes to the study and critical theory of nationalism in the age of social media (nationalism 2.0). Some conclusions are drawn in chapter VII. This work stands in the tradition of theoretical and empirical ideology critique.